UT Athletics: Accounting vs. Accountability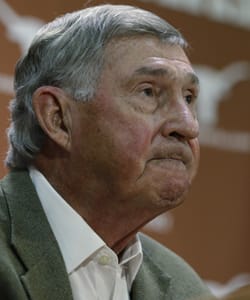 After a decade-long run in athletics that produced national championships in football and baseball and Final Fours in both men's and women's basketball, athletic director DeLoss Dodds jokingly said, "We are the Joneses."
And after landing an unprecedented 20-year, $300 million contract from ESPN for the school's own television network in January 2011, who could argue?
But multiple sources connected to the department told Orangebloods.com UT's run last decade and subsequent financial success has resulted in entitlement at the top that has allowed the school's revenue sports to slip.
Those sources say coaches and department officials started making more and more decisions that were in the best interest of themselves as opposed to what was best for Texas.
Tough decisions were put off while the salaries and staffs of men's athletic director DeLoss Dodds and women's AD Chris Plonsky have increased dramatically since 2010, including positions for family and friends.
The increases have come as Texas landed an additional $15 million per year from the Longhorn Network but also while Texas' revenue sports across the board have underperformed.
"We do need to win more. No doubt about it," said Nick Voinis, senior associate athletic director for communications. "But we do have our day to day responsibilities, and we have needs."
Next week, new athletic director Steve Patterson, a Texas alum and law school graduate with a reputation for making bold, culture-changing decisions, takes the reins from Dodds.
****
Most of the same people who helped build Longhorn athletics into a $168 million-in-revenue-producing cash cow are still there: Dodds (although Steve Patterson has been hired to take over by Dec. 1), Plonsky, former women's basketball coach Jody Conradt (now as a special assistant to Plonsky), Mack Brown, Rick Barnes and Augie Garrido.
Largely based on the success of those names, the Texas athletic department went on a run few schools ever have in the first decade of the 2000s.
* From 2002-09, football won a national title (2005) and played for another (2009) while winning two other BCS bowl games (Rose in 2004 and Fiesta in 2008).
* Men's and women's basketball went to the Final Four in 2003. And Barnes' program reached the Elite Eight in 2006 and 2008.
* Baseball won national titles in 2002 and 2005 and also reached the College World Series in 2000, 2003, 2004, 2009 and 2011.
By the time realignment rolled around in the summer of 2010, when Pac-10 commissioner Larry Scott tried to add six schools from the Big 12, Texas could have basically picked its conference.
That became so clear to ESPN after the Longhorns agreed to remain a part of the Big 12 that ESPN paid UT $300 million for 20 years simply for the rights to air the school's least desirable (third tier) athletics inventory.
No individual school had ever commanded that kind of money for third tier rights to air baseball, softball, Olympic sports as well as the lowest-interest football and basketball games on the schedule.
It was a crowning achievement for Dodds, an icon in college athletics who helped form the Big 12 Conference, then helped hold it together while making Texas a financial behemoth.
But there were already cracks in the foundation of football as well as men's and women's basketball by the time LHN and UT's new-found riches arrived. And that led to mixed messages, sources say.
As the success began piling up during the run from 2002-09, multiple sources inside the department say they witnessed head coaches entrusting more to assistant coaches so the head coach could enjoy more time away.
Those sources say selfishness and fiefdom control took over in many instances.
And when ESPN vowed to pay Texas $300 million for LHN, sources say the coaches and department heads all felt partly responsible for that financial reward at a time when some of the coaches' programs were already trending down.
****
Petty jealousies and back-stabbing are often part of the subtext of any workplace. But sources say entitlement from the top within the Texas athletic department has led to mediocrity in UT's revenue sports:
* Football is 4-13 against teams ranked in the AP Top 25 since 2009, including a current 8-game losing streak at home vs ranked teams. Recruiting has missed badly at QB and Texas' last offensive lineman drafted by the NFL (in 2008), Tony Hills, was recruited in 2003.
* Men's basketball, which hasn't been past the first weekend of the NCAA Tournament since the 2007-08 season, is coming off a first-round CBI Tournament loss, three player transfers and big misses in recruiting.
* Baseball has lost its last 12 conference series, including all nine last season, finishing dead last in the league standings for the first time since 1956
* Women's basketball, a model program under Jody Conradt in the 1980s, had a resurgence in 2003 with a Final Four trip. Then faded again. Gail Goestenkors, a regular in the Final Four at Duke, replaced Conradt, then surprisingly burned out after five seasons at Texas and retired.
The university is also now the subject of a discrimination lawsuit filed by former women's track coach Bev Kearney, who was told last year she'd be fired for having a sexual relationship with one of her student-athletes 10 years ago.
Kearney alleges that white male counterparts at Texas have also had inappropriate relationships with students and subordinates and didn't face termination.
Kearney, who won six national titles at Texas, represents two of the three women's national titles won under Plonsky's 12-year watch as AD (volleyball, which won it all last year and is No. 1 this year, was the other).
****
Meanwhile, Mack Brown, Texas' embattled football coach, last year complained about programming demands of the Longhorn Network by saying, "I didn't sign up for this."
Multiple sources close to the situation said Brown has zero contractual obligation to his current workload at LHN - an hour-long show Monday called "Rewind" as well as a half-hour show on Thursday called "Playbook" (scaled back from an hour long the previous two years).
Brown does have a contract with IMG that requires him to do a one-hour radio show each week during the football season, which LHN also broadcasts on Wednesdays.
One high-ranking source said if Brown truly felt he needed to spend more time rebuilding his football team as opposed to taping shows for LHN the past three years, "People would have worked on his behalf to free him up."
A source familiar with the situation said, in Brown's defense, when Brown first met with Longhorn Network officials and UT administrators, the network's requests were discussed as expectations. The source said Brown understood for LHN to be successful, football would have to be a big part of it.
As Brown fights for survival at Texas, the high-level source said Brown failed to show accountability to the football program by retaining Manny Diaz as defensive coordinator after the program's worst statistical defense in school history in 2012.
The source said Brown had indicated privately that Texas' 16-year coach had doubts about Diaz even after spring football this year and thus hired Greg Robinson as a football analyst, at that time, as an insurance policy if Diaz failed.
When Diaz's defense gave up 550 yards rushing in a 40-21 loss at BYU in the second game of the season, Brown fired Diaz and replaced him with Robinson.
"If you're the head coach at Texas going into a season where you think you have the talent to win all the games, but you have doubts about your defensive coordinator, you have to make that change before the season," the source said. "If you don't, you're letting down everyone involved - the players, the other assistant coaches and the school."
Brown, who earns $5.4 million and received a four-year contract extension through 2020 after an 8-5 season in 2011, has said he believed in Diaz after the defense showed improvement toward the end of last season. Brown has said Robinson was merely hired to help scout opponents and provide self-scouting - but ended up being in the right place at the right time to bail out the defense.
****
Dodds' salary has gone from $625,000 in 2006 to $825,000 in 2010 to $1.1 million in 2012. And some inside the department would argue Dodds has earned every penny and might still be underpaid for all the success he's helped bring to Texas.
But sources in the department say Dodds wanted to retire in the spring of 2011 but was given a raise and contract extension to stay on as AD because of realignment, which ultimately netted LHN for UT.
Those sources say Dodds made it clear over the last three years he wasn't going to make any potential decisions on football coach Mack Brown, basketball coach Rick Barnes or baseball coach Augie Garrido.
Dodds indicated repeatedly during that time those decisions should be made by his successor, the sources said.
"You don't think Mack Brown, Rick Barnes and Augie Garrido knew that?" one high-level source said. "How entitled would you feel if you knew your boss was never going to fire you? How much accountability and urgency would you feel to take care of the details knowing that?"
Voinis said, "I have never heard (Dodds) say that. He is engaged and doesn't shy away from making difficult decisions and never will."
As Dodds' 32-year tenure has been winding to a close, the department has added numerous new staff members, including assistant athletic director Rebecca Haden, whose salary has soared.
Haden was the assistant catering director of Sodexho Sports and Leisure, helping to service a contract with Texas, when Dodds hired her as a special assistant in 2009. Her salary has jumped dramatically each year, hitting $86,000 in 2011-12 and $114,620 currently.
Most people in the department interviewed for this story didn't know what Haden's job entailed.
Voinis said Haden serves as the liaison for the athletic department to both the men's and women's athletics councils, oversees UT's contract with Sodexho and coordinates travel for the Texas band, cheer and pom squads.
Dodds' grandson, Steffan Schmeiding, a former walk-on to the Texas men's golf program, was recently hired by UT as special assistant to the men's and women's golf programs. Voinis said Schmeiding serves as a director of operations for both programs at a salary of $32,000.
Tyler Worley, the son of deputy athletics director Butch Worley, was just hired to work for the Longhorn Foundation, which raises money for Texas athletics. Voinis said Worley is earning $28,000 in a "one-year, intern-level job that could grow to two years."
"Yes, we've hired a bunch of folks around here. This place is growing. Some have come in as others have gone out," Voinis said.
And some have just stayed.
Still working in various roles in the athletic department at near or above six-figure salaries are former defensive tackles coach Mike Tolleson, former defensive ends coach Hardee McCrary and former assistant baseball coach Tommy Harmon.
Voinis said all three do a great job of helping to raise money for the department.
"Those guys do a great job with the (Longhorn) Foundation going out and trying to fund-raise," Voinis said. "People like talking to them and being around them. They've been a great addition."
Manny Diaz is still on the Texas payroll at a salary of $700,000. Just as former Texas women's soccer coach Chris Petrucelli was retained for a year after being fired at a salary of $222,555 and former women's basketball assistant coach Gail Valley was retained at a salary of $108,578 until they both found other jobs.
****
Plonsky's salary has gone from $280,000 in 2006 to $432,581 in 2010 to $550,000 in 2012. While Plonsky is seen as a star in college athletics for her work in external services (marketing, licensing and branding), the marquee program of her department - women's basketball - has floundered.
Two sources close to the situation say Plonsky micromanaged Goestenkors with constant text messages and ideas about everything from: potential player transfers at other schools; how to manage relationships with Texas high school coaches; and even suggested how and when certain UT players should be used.
Those sources say Plonsky is obsessively involved with women's basketball, dating back to her 20-plus-year affiliation at Texas with Conradt.
Plonsky said in a text message to Orangebloods.com Goestenkors never indicated those things to her and that they are still close. Plonsky declined further comment. Attempts to reach Goestenkors were unsuccessful.
Goestenkors announced her retirement in March 2012 at age 49 after an 18-14 season and an overall record at UT of 102-64 with one NCAA Tournament game victory. She had two years left on a seven-year deal.
Karen Aston, a former assistant coach under Conradt at Texas, was hired at $600,000 per year to replace Goestenkors. And it was some the leftovers from Goestenkors' already-budgeted $1.25 million salary that Plonsky had planned to use to give Bev Kearney a contract extension and raise - right before the revelation of Kearney's relationship with one of her student-athletes surfaced.
Plonsky's staff includes Conradt, as a special assistant who reports to Plonsky, as well as Conradt's former top assistant basketball coach Kathy Harston, now the senior associate AD for sports programs.
Voinis said Conradt earns $75,000 and helps raise money as an ambassador for the university, much like the special assistant title given to former football coach Darrell Royal. Harston earns $147,000 and helps manage coaching needs, facilities, travel, budgets and game-day operations, Voinis said.
****
Texas currently has roughly 500 student-athletes and nearly 400 full-time, athletic department employees. The ratio of student-athletes to employees at most schools is closer to 2:1.
Enter Steve Patterson.
I'm told the deciding factor for Patterson with the advisory committee is that West Virginia athletic director Oliver Luck said, if there's a "sticky situation" involving a coach he'd like that situation to be handled before he took over at Texas.
Patterson, meanwhile, said he wanted to handle any and all situations facing the athletic department because if he was going to be in charge, he wanted to be responsible for every major decision. He didn't want people in his department guessing who was in charge.
Patterson helped trim nearly 100 people from the Arizona State athletic department as a consultant and then as AD. When Patterson took over Portland in the NBA as president and GM in 2003, when they were known as the Jail Blazers, he cleaned out more than 80 from the front office.
The fact no one from the Texas athletic department - no current coaches or staff - were consulted in the hiring of Patterson sent a strong message that big changes would be coming.
I was told with enough employee cuts, Texas could add a lacrosse program, which is on the to-do list.
The clear message of the advisory committee that just hired Patterson is success will return to athletics when any entitlement from UT's increased accounting is replaced by a culture of accountability.