Where Texas Longhorns commits, top targets land in updated Rivals250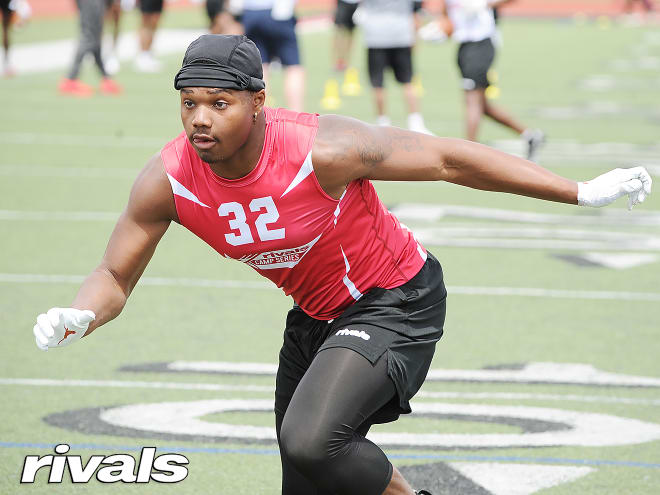 The latest edition of the Rivals250 has been released for the 2023 recruiting class. Texas currently boasts multiple members of the rankings in the early stages of the summer, as all five commitments land inside June's top-250.
As official visits heat up and trips around the nation occur, it is likely that Texas continues to add to the class between now and the next update. The Longhorns do not feature a top-150 prospect, but Texas is very much in on several prospects that make up the Rivals100.
Here is where things stand now.
*****
COMMITTED PROSPECTS
No. 160 Ryan Niblett, WR, Aldine (Texas) Eisenhower
Ryan Niblett is among the fastest players in the Lone Star State, clocking in at 10.47 in the 100-meter earlier in the spring. The four-star recruit moves up more than 60 spots in the rankings, becoming the highest rated member of the Longhorns' current haul.
***
No. 183 Tre Wisner, APB, DeSoto (Texas)
Tre Wisner committed on the same day as Niblett, as the pair gave their pledge to the Longhorns following the spring game in April. The four-star back transferred into DeSoto from Waco Connally this spring and is expected to be a major piece on a contending team in the DFW. Look for Wisner to play running back and have an impact in the slot as a receiver for DeSoto.
***
No. 209 Dylan Spencer, SDE, Houston (Texas) C.E. King
Dylan Spencer slides in the rankings, but he still lands safely inside the Rivals250. The Houston-area standout features a great frame on the edge and is just scratching the surface of what he can develop into. He gave the Longhorns a commitment early in the spring.
***
No. 210 Jamel Johnson, CB, Arlington (Texas) Seguin
Jamel Johnson announced his commitment to Texas all the way back in November, choosing the Longhorns over LSU, Oklahoma, and others. Johnson is a versatile defensive back that plays all over the field at Seguin. His former high school teammate, Xavion Brice, inked with Texas in December.
***
No. 237 S'Maje Burrell, LB, Fort Worth (Texas) North Crowley
S'Maje Burrell makes his Rivals250 debut after a strong junior campaign and showing at the Rivals Camp in Dallas back in April. Burrell is an athletic linebacker that loves to lay the boom when tackling. The DFW standout chose the Longhorns over Ohio State, Oklahoma, and Texas Tech.
*****
KEY TARGETS
No. 1 Arch Manning, QB, New Orleans (La.) Isidore Newman
No. 10 TJ Shanahan Jr., OG, Austin (Texas) Westlake
No. 11 Anthony Hill, ILB, Denton (Texas) Ryan
No. 12 David Hicks Jr., SDE, Katy (Texas) Paetow
No. 19 Javien Toviano, CB, Arlington (Texas) Martin
No. 20 Rueben Owens, APB, El Campo (Texas)
No. 41 Derek Williams, S, New Iberia (La.) Westgate
No. 44 Jalen Brown, WR, Miami (Fla.) Gulliver Prep
No. 52 Johntay Cook II, WR, DeSoto (Texas)
No. 56 Jaquaize Pettaway, WR, Houston (Texas) Langham Creek
No. 68 Malik Muhammad, CB, Dallas (Texas) South Oak Cliff
No. 69 Jaden Greathouse, WR, Austin (Texas) Westlake
No. 75 Jalen Hale, WR, Longview (Texas)
No. 76 Colton Vasek, WDE, Austin (Texas) Westlake
No. 83 Braylan Shelby, OLB, Friendswood (Texas)
No. 86 Derion Gullette, OLB, Marlin (Texas)
No. 99 Harris Sewell, OG, Odessa (Texas) Permian
No. 100 Dalton Brooks, ATH, Shiner (Texas)
No. 114 Micah Bell, CB, Houston (Texas) The Kinkaid School
No. 118 Cedric Baxter, RB, Orlando (Fla.) Edgewater
No. 125 Jordan Matthews, CB, Baton Rouge (La.) Woodlawn
No. 130 Hunter Osborne, SDE, Hewitt Trussville (Ala.)
No. 143 Ian Reed, OT, Austin (Texas) Vandegrift
No. 146 Jeremiah Cobb, APB, Montgomery (Ala.) Catholic
No. 152 Tay'Shawn Wilson, CB, Houston (Texas) Mayde Creek
No. 171 Jaydon Chatman, OT, Harker Heights (Texas)
No. 173 Jordan Renaud, SDE, Tyler (Texas) Legacy
No. 192 Desmond Umeozulu, SDE, Upper Marlboro (Md.) Charles Herbert Flowers
No. 195 Calvin Simpson-Hunt, CB, Waxahachie (Texas)
No. 221 Markis Deal, DT, Garland (Texas) Naaman Forest
No. 250 Ashley Williams Jr., WDE, Zachary (La.)
*** FULL RIVALS 250 ***