With a twist, Swoopes ready to embark on NFL career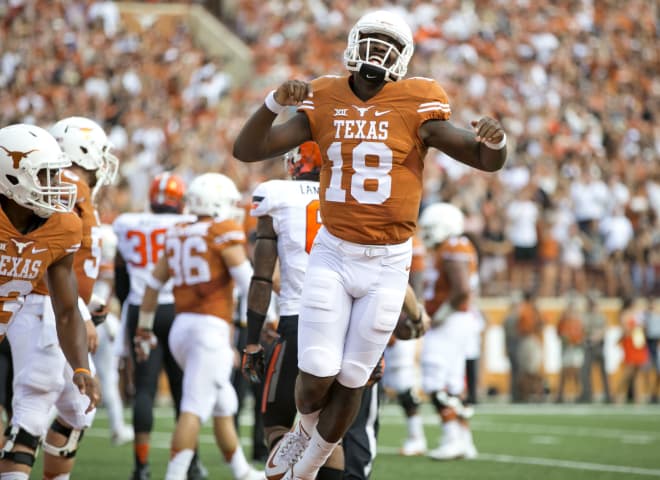 Orangebloods has learned in an exclusive interview with former Texas QB Tyrone Swoopes that he will be entering the 2017 NFL draft as a tight end.
Swoopes, who gained most of his notoriety at Texas as a dominating runner and goal-line bruiser in his signature "18-wheeler package," is working to make the transition from quarterback to tight end at Michael Johnson Performance in Dallas. The popular training facility is just a stone's throw from his hometown of Whitewright, Tx. to the northeast.
"After the season, I spoke with some agents," Swoopes said, "They all said that (moving to tight end) was the right move based on everything they were hearing (from scouts and league sources)." This falls in line with previous reports at Orangebloods that some NFL teams were intrigued by Swoopes' size/speed combo (6-5, 250 pounds), along with his ability to shed tacklers and make tough yards after contact - just not as a quarterback.
However, it wasn't necessarily a move Swoopes anticipated making. Even in a senior season that saw him relegated to the bench in favor of true-freshman quarterback Shane Buechele, Swoopes felt all along he was a quarterback, first and foremost. Swoopes told Orangebloods that "at no time" during his senior season did the thought of switching positions (like QB-to-WR convert Jerrod Heard) ever cross his mind.
"I played running back in pee-wee football," Swoopes said of his experience at other positions, "I played receiver for a year in high school, but that was my freshman year and I was hurt the whole time anyway."
While his career at Texas didn't include any rewriting of the record books, Swoopes will come out with a degree from the state's flagship university and the same natural athleticism that earned him a consensus top billing as a prospect out of high school. Furthermore, in his words, he'll "still have a QB brain" to rely on as he assimilates into a new offensive role.
Swoopes believes this mentality will benefit him greatly in chemistry with future quarterbacks as a receiving option.
"It will help a lot that I was a quarterback," Swoopes said, "A quarterback can do things on the fly; he can call (an audible) out to me once he sees the coverage and I'll see the same coverage. You won't have to explain it to me; just give (me) the short-and-sweet version. I'll know what he wants, if it's to adjust in this way or that way, to sit in this zone - I still process the information the defense gives you like a quarterback (does)."
Swoopes, who'll participate in the College Gridiron Showcase All-Star Game this January in front of NFL scouts, also knows that he'll need to show he's able to perform the tight end position's ancillary duties.
"I have the basic technique of route-running down - I have good hands; big hands. I don't think getting the ball in them is difficult," Swoopes said, "I've been mainly focusing on seeing it in and tucking it in."
When asked if he was "overwhelmed" at learning a the blocking aspect of a new position in less than a month before showcasing for NFL teams, Swoopes, in typical fashion given his temperament, seemed unworried.
"I've been doing technique, blocking, footwork, I have great coaches," he said.
The early word from sources around the MJP training complex is that Swoopes is "way ahead" in his transition and one person said they were "thoroughly impressed with his movement abilities." With a big showing at the Gridiron Showcase, Swoopes could potentially earn an invite (or at least an addition to the late-add wait-list) to a late-January all-star game if he draws buzz in the scouting community.
Practices for the 2017 Gridiron Classic Showcase will be attended by numerous NFL personnel and take place beginning on January 7 in Bedford, Tx.