Coveted Rivals100 LB Derion Gullette commits to Texas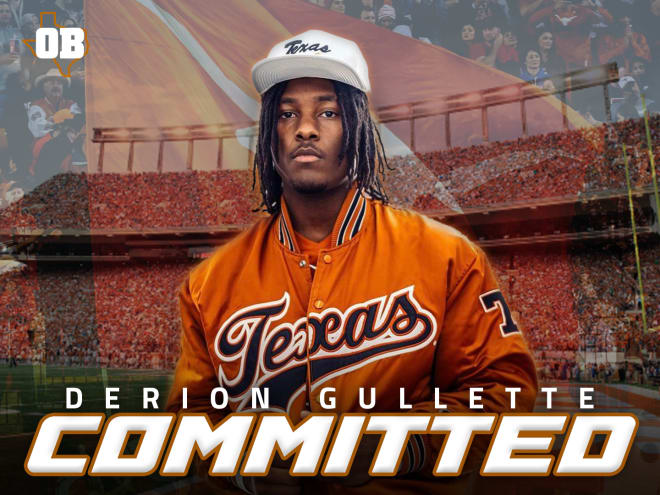 Texas has landed a big commitment going into the weekend.
Teague (Texas) linebacker Derion Gullette announced his commitment to the Longhorns on Friday. Gullette opted for the burnt orange over finalists Ohio State and Texas A&M. The latter of which hosted Gullette on the final day of July and made a serious push for the newest Longhorns pledge.
Gullette was one of the biggest risers in the June Rivals rankings update. A defender that features a great frame and upside, Gullette possesses an enormous ceiling that led to programs from all over the nation offering.
"Their message to me is that they see what I can bring to them," Gullette previously told Orangebloods. "With them, it's not that they're trying to get me to commit. It's more that they want me to go to a place that feels like home, even if it's not Texas.
"That just shows me that they care about me, honestly."
The 6-2, 223-pound Central Texas product is a multi-sport athlete that looks the part at first glance. He has starred on the football field in addition to turning heads on the track and on the basketball court. That well-rounded athletic profile points to long-term success on the gridiron.
Gullette suffered an offseason knee injury that has put his senior season on the prep level in jeopardy. Nonetheless, the talent and upside that Gullette brings to the table is evident.
Assuming that he gets back to 100 percent, Derion Gullette offers a ton of intriguing versatility on the defensive side of the ball. He can fill multiple roles in Pete Kwiatkowski's 3-3-5 scheme. The four-star projects well as an edge rusher or outside linebacker with his lengthy frame and natural ability to get into the backfield, while also having the ability to be a difference maker in a traditional linebacker role.
Derion Gullette ranks as a 5.9 four-star prospect, the No. 86 recruit nationally, No. 6 outside linebacker, and No. 16 player in the state of Texas for the 2023 cycle. He becomes the No. 21 commit in the Longhorns' top-5 ranked recruiting class.
Gullette is the fifth Rivals100 pledge in the Longhorns' class, joining five-star quarterback Arch Manning, four-star defensive back Derek Williams, four-star wide receiver Johntay Cook, and four-star defensive back Malik Muhammad.